What's New at Toyota Field in 2023
Customizable jerseys, green cup district highlight new features for 2023 season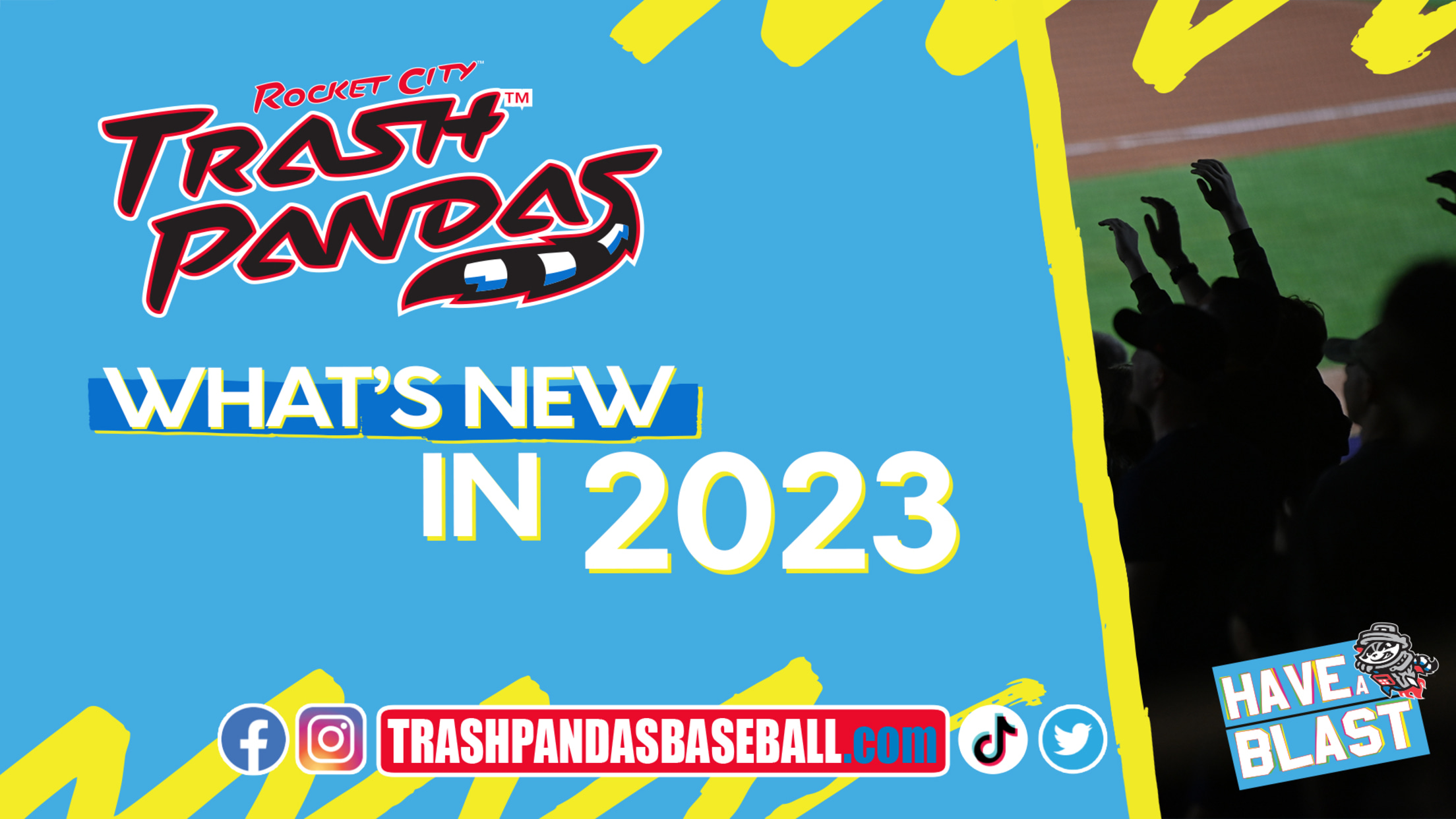 The Rocket City Trash Pandas are excited to announce many new additions to the gameday fan experience at Toyota Field ahead of the 2023 season opener Field on Thursday, April 6. The changes include Toyota Field's inclusion as part of the new Town Madison Arts & Entertainment District, grab and
The Rocket City Trash Pandas are excited to announce many new additions to the gameday fan experience at Toyota Field ahead of the 2023 season opener Field on Thursday, April 6.
The changes include Toyota Field's inclusion as part of the new Town Madison Arts & Entertainment District, grab and go concession stands, options for customizable jerseys, improved security screenings, and more.
One of the biggest additions to the Trash Pandas' promotional calendar in 2023 is All You Can Eat Wednesdays (excluding the three Education Day games on April 19, May 3, and September 6). All tickets are specially priced with a $9 increase to include a selection of unlimited food such as hot dogs, burgers, fries, nachos, popcorn and fountain drinks at Gravity Grille and Dumpster Dive concession stands. The Bullpen Bar will also offer unlimited hot dogs and nachos. Advance ticket prices for All You Can Eat Wednesdays start at $17 for seating on the Budweiser Berm, with box seats starting at $25. Full ticket options are available online.
Along the third base line, the Waynes Picnic Patio has been renovated and now includes field facing seating with countertops for all guests. The upgrade replaces the picnic tables that were previously in place. The Waynes Picnic Patio is reserved for groups of 10 or more and includes a two and a half hour buffet style dinner.
With the recent establishment of the Town Madison Arts & Entertainment District. This allows fans ages 21 and older to purchase alcoholic drinks inside Toyota Field and carry them in new designated green cups to drink within the boundaries of the district, which includes other popular restaurants and bars inside Town Madison. Previously, fans were not allowed to take alcoholic beverages outside the ballpark when exiting.
New at The Junkyard Team Store, fans will have the option to customize select Trash Pandas jerseys and t-shirts with their own name and number. Customization with a name and number is available for $30. Fans are welcome to bring in previously purchased Trash Pandas merchandise for customization, or it can be added on when purchasing a new item at The Junkyard Team Store at Toyota Field.
At both the Gravity Grille and Dumpster Dive concession stands this season, fans will be able to get their food and beverages in grab-and-go style, picking up their items at the counter and paying at a kiosk on the way out. This process will reduce wait times at concession stands and allow more fans to get in and out quicker.
New security screening processes are in place that will expedite entrance to Toyota Field while allowing for a safer and more comfortable procedure for all fans. Additionally, a Clear Bag Policy remains in place for all games at Toyota Field. Specific information regarding acceptable bags can be found HERE.
Toyota Field remains a cashless venue, accepting most major credit cards as well as Apple Pay and Google Pay. Click HERE for more information on that policy. No outside food or drink is allowed inside Toyota Field.
The third season in Trash Pandas history kicks off with Opening Weekend at Toyota Field, a three-game series against the Chattanooga Lookouts from April 6-8. First pitch of all three games is set for 6:35 p.m.