Peterson, Syracuse dominate Norfolk for 9-1 Mets win on Sunday afternoon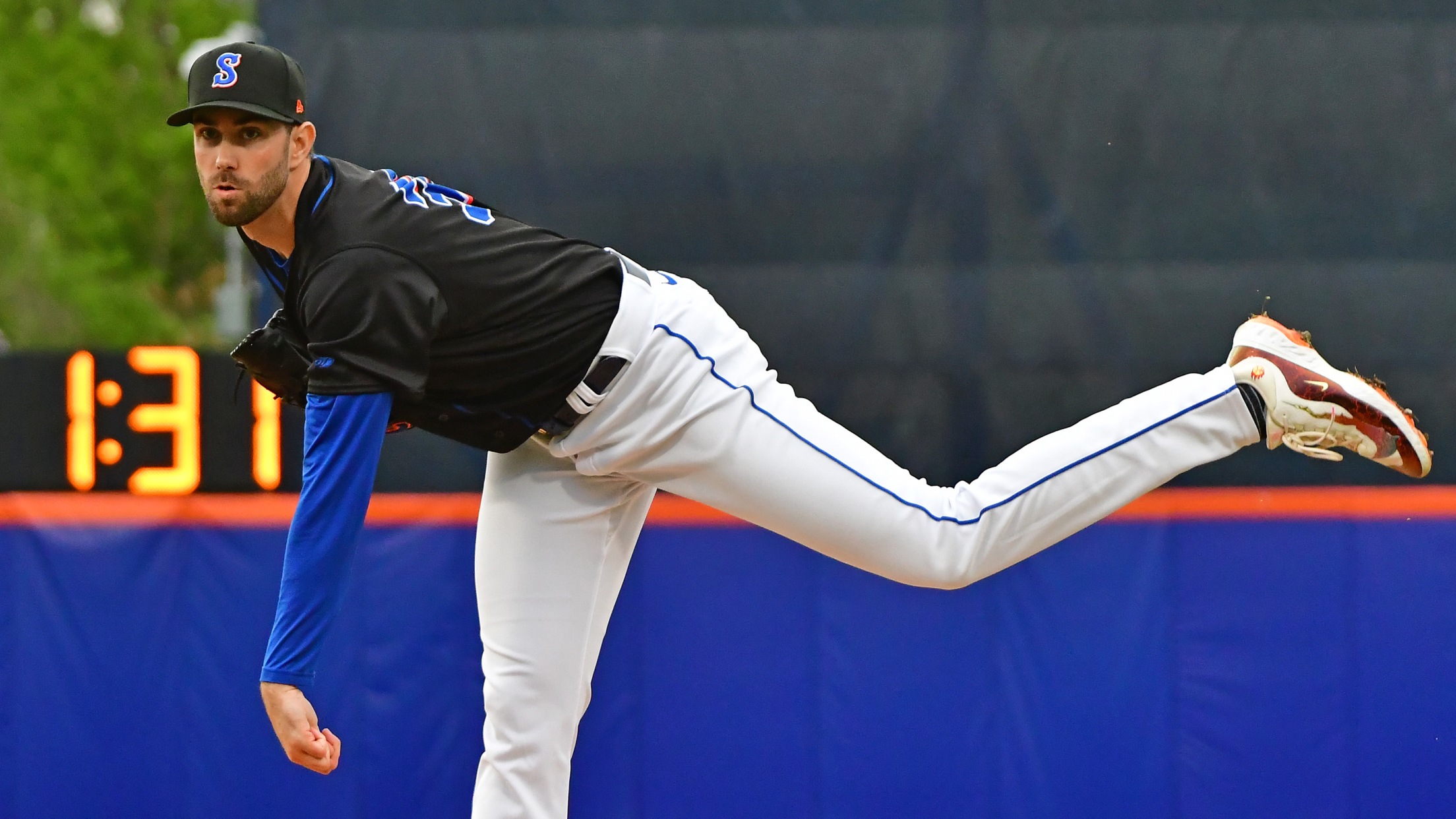 David Peterson struck out nine batters in eight scoreless innings pitched on Sunday for Syracuse. (Rick Nelson)
Norfolk, VA - Syracuse starting pitcher David Peterson pitched eight scoreless innings with nine strikeouts while the Mets offense used timely hitting to score eight two-out runs en route to a 9-1 victory over the Norfolk Tides on Sunday afternoon at Harbor Park. The victory secured a split in the
*Norfolk, VA - *Syracuse starting pitcher David Peterson pitched eight scoreless innings with nine strikeouts while the Mets offense used timely hitting to score eight two-out runs en route to a 9-1 victory over the Norfolk Tides on Sunday afternoon at Harbor Park. The victory secured a split in the six-game series with the Mets winning three of the final four games.
After four scoreless innings, Syracuse (19-26) jumped on top in the top of the fifth inning. With two outs, Jonathan Araúz doubled to become Syracuse's first baserunner of the game. Then, Lorenzo Cedrola singled, scoring Araúz for a 1-0 Mets lead. Carlos Cortes followed with a 387-foot blast over the right-field wall for a two-run home run that gave Syracuse a 3-0 edge.
The Mets broke the game open in the seventh. Jaylin Davis led off with a double. Two batters later, Araúz worked a walk, and two batters after that, Cortes worked a two-out walk to load the bases. Nick Meyer followed with a walk that allowed Davis to trot home for a 4-0 advantage. Then, Danny Mendick placed a single into left field, scoring Araúz and Cortes to make it a 6-0 ballgame. Ronny Mauricio punctuated the frame with an exclamation mark, lasering a double off the wall in right-center field that brought home Meyer and Mendick, extending the Mets' lead to 8-0.
Syracuse added one more run in the eighth when Nick Meyer launched his first home run of the season. The 411-foot homer over the wall in left-center field gave Syracuse a 9-0 advantage.
Meanwhile, Peterson twirled a gem on the mound for the Mets. The 27-year-old left-hander shined with his best performance of the season, tossing eight scoreless innings of two-hit baseball while striking out a season-high nine batters with only three walks allowed.
Norfolk (31-13) avoided the shutout with a run in the ninth. Connor Norby lifted a ball over the left-field wall for a solo homer to lead off the frame and make it a 9-1 game. Despite the home run allowed. Mets reliever Grant Hartwig retired three of the next four Tides batters to close out the game and secure the Syracuse win.
Entering the week, Norfolk had lost only three games at home in 17 games at Harbor Park. Despite that, Syracuse won three of the six games against Norfolk this week. The Mets even missed a pair of opportunities to truly dominate the series with six-run leads on both Tuesday and Saturday that Syracuse gave up in games the Mets eventually lost.
With the two-week road trip completed, the Mets return home to Syracuse and host the Louisville Bats in a six-game series beginning on Tuesday. First pitch at NBT Bank Stadium is scheduled for 6:05 p.m.