Syracuse pitching dominates as Mets shut out Tides, 1-0, on Friday night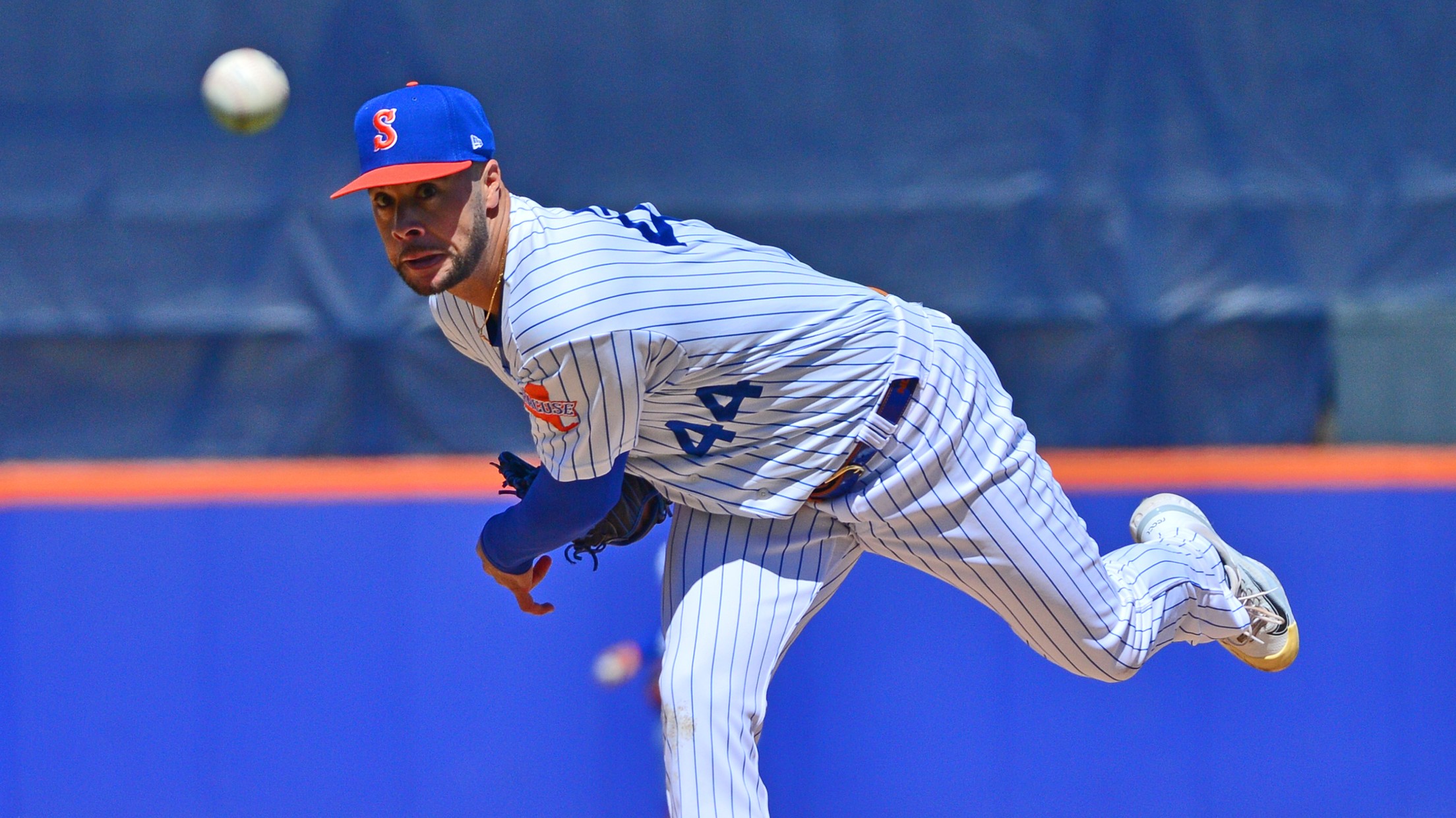 Joey Lucchesi pitched six scoreless innings with seven strikeouts on Friday night in Syracuse's win. (Rick Nelson)
Norfolk, VA – The Syracuse Mets pitchers ruled the night at Harbor Park, shutting out the Norfolk Tides (Triple-A Baltimore Orioles) on Friday night en route to a 1-0 win. The Mets have now won back-to-back games after dropping the first two games in the six-game series. The shutout win
Norfolk, VA – The Syracuse Mets pitchers ruled the night at Harbor Park, shutting out the Norfolk Tides (Triple-A Baltimore Orioles) on Friday night en route to a 1-0 win. The Mets have now won back-to-back games after dropping the first two games in the six-game series. The shutout win is even more impressive considering Norfolk has the most runs scored and best batting average in the International League this season.
Early on, the game was dominated by sterling starting pitching from Joey Lucchesi. The left-hander returned to Syracuse (18-25) with a true flourish, tossing six scoreless innings with just four hits allowed and not a single walk. Lucchesi added seven strikeouts to his über-impressive final line. The native Californian had not pitched in Triple-A since April 13th, having made five starts up in the Major Leagues with the New York Mets during that time. Lucchesi has a pristine ERA of 1.66 in four Triple-A starts this season, striking out 23 batters in just under 22 total innings pitched while pitching 16 and two-thirds consecutive scoreless innings.
While Lucchesi was twirling his gem, the Mets scratched across a run in the top of the fifth to take a 1-0 lead. A one-out single from Ronny Mauricio started the rally, followed by a walk from DJ Stewart to put two runners on base with still just one out. The next batter, Jaylin Davis, singled into left field, scoring Mauricio from second and giving the Mets a 1-0 lead they would never relinquish.
From there, Syracuse's bullpen held down the front, holding Norfolk (30-12) off the scoreboard in the final three innings to secure the victory. Zach Muckenhirn tossed a scoreless seventh and eighth innings, scattering two hits while striking out two and not walking anyone. In the ninth, Nate Lavender slammed the door, working a 1-2-3 ninth to earn his second Triple-A save.
Lavender has been brilliant this season in Triple-A, allowing just one earned run in six innings with eight strikeouts and four walks in five total outings. Muckenhirn has also been excellent all year long in Triple-A. The North Dakota alum, who made his MLB debut with the Mets earlier this season, has allowed just two earned runs in 19 and one-third innings pitched with the Syracuse Mets this season, good for 0.93 ERA.
Syracuse continues its two-week, 12-game road trip with the penultimate game of the road swing on Saturday. The fifth game of this six-game series against Norfolk is set for a 6:35 p.m. first pitch.